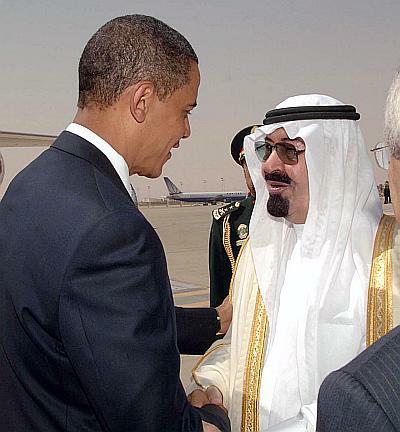 The blog Emes ve-Emunah has noted that within the ultra-orthodox Jewish community it's become normal to insult U.S. President Barak Obama.  He asks how can it be appropriate to insult the holder of a high office?  He says, "I can't help but suspect that there is an element of racism here. I sense it… and if true it's disgusting and a Chilul HaShem. Constantly bashing him in such vitriolic terms - even if it isn't becuase of racism borders on Chilul HaShem. And it ought to stop!"
Obama is free as president to create whatever prioritize and international directions he feels appropriate for his view of America.  That's his right and role as president.  And he's free to do so even if everyone disagrees with him...for 4 years at least. 
But, as a Jew in Israel I can say that his policies have directly empowered our enemies, caused direct damage to thousands of Jewish families throughout the Shomron, Yehuda, and greater Jerusalem areas.  Yeshivas have failed to be built, shuls have stopped being built, even building a sun cover over your patio is stopped...because of US foreign policy and pressure. 
Israel is politically weakened, the UN, the Arab League, and Hamas politically empowered due to the actions of the US administration.  And this directly translates into violent actions against Jews and Israelis.
Obama has dissed the Jewish community and empowered Muslim communities in America.  He's also empowered a lot of other "quiet" policies that seem aimed at hurting Jews and Israel in various ways.  Example - 400 IRS agents arrived in Israel to begin conducting mass audits of American Israeli tax returns.  One result of this is Bank Leumi in Israel is requiring all American Israeli customers to certify and prove they're filing their US taxes, and Bank HaPoalim (that's 2 of the 3 largest Israeli banks) is considering not accepting ANY American Israeli customers.  (as if they don't guarantee all their American customers aren't hiding any money they'll be restricted from doing financial transfers into and out of the US).  
Similarly such financial research missions were moved in America from focusing on terrorist supports and transfers to Pakistan and overseas terrorist organizations to Jewish charitable organizations that were educating poor Torah students in New York and in Israel.  While rabbis and rebbes shouldn't be violating money transfer and money laundering laws, there's a significant difference in moving money to a yeshiva in Brooklyn and Jerusalem versus moving the money to an Al Qaeda terrorist training base in Waziristan, Pakistan.
In the past two years we've seen a number of Jewish charity raising figures being led to prison, but suddenly the imans, sheiks, as well as Egyptian, Pakistani, and Palestinian banks don't seem to be having any such problems.  Nor are they asking to certify their American-origin customers as the banks in Israel are.  (Granted the US also went after the banks in Switzerland, that was a straight matter of government fund raising.)
The President may be trying to rebalance what he's seen as an overly favorable relationship to an even handed relationship.  That's his right in is role as president.  And it's also his role to pressure any foreign power any way he wants.  It's not illegal or immoral.
But it's directly hurting many Jews and directly putting Jewish and Israeli lives at risk.  And when the president is directing government steps and policy changes that are directly hurting many Jews, it's no surprise that he would become a target of insults by the community. 
Hurting the Jews has never paid positive dividends for ANY country...always quite the opposite.  Further, hurting the Jews has ALWAYS hurt the economy of the acting country – an even more stupid thing to do given current US economic conditions.
The hearts of kings are in the hand of Hashem.  There is no question that these troubling times and the troubling actions of Obama are part of the Divine plan and will be for the best.  But while we give thanks and praise to Hashem, Obama doesn't get our praise for volunteering to be the stick.